Light Controls | The perfect lighting dimming system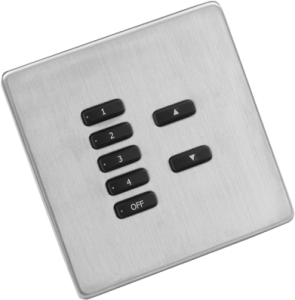 Light Controls designs and sells lighting control systems for homes, businesses and commercial premises. We can create beautifully effective and adaptable mood lighting while achieving up to 40% savings on energy costs compared to a basic switched system.
Rako lighting control systems are easy to install, simple to use and are extremely reliable. They create stunning lighting effects that complement and complete any room.
Your lighting control system can be pre-programmed to suit any time of day, whatever mood you are in, giving you complete control.
Light Controls' wireless dimming systems gives you all the control and benefits of a modern lighting system without the cost and difficulty of needing to re-wire. This makes our dimming systems perfect for both new and retro-fit installations.
Hardwired lighting control systems are perfect for multi-room, large, commercial or institutional buildings.
The wireless dimming system gives you the most cost-effective and simple-to-install lighting system, saving you money on cabling and re-decoration. A major advantage of wireless lighting systems is that additional pushbutton controllers may be added or relocated in minutes, with minimum disruption.
Light Controls can also include a solar timer unit that allows you to set timed activities such as driveway/access lighting.  This unit continuously monitors all lighting actions and can play these back when the building is unoccupied, giving the appearance of normal occupation during holiday periods.
Our lighting dimming systems are perfect for newly-built homes, renovation projects, listed buildings, bars, restaurants or any commercial buildings.
---
We have over 35 years experience in electrical engineering and over 30 years specialising in commercial lighting design projects. Light Controls has worked on many varied projects, large and small.
Light Controls also offers a lighting design service that many clients choose to get the most effective lighting plan for their space.
Our bespoke lighting designs are rendered in the Dialux system, the best tool on the market for crafting the layouts and lighting levels within a space for maximum control and comfort.
We are very happy to talk about our lighting control systems to Architects, Interior designers, property developers and owners.
Please contact us here to discuss our lighting control systems or design service arrange a call.
Some of our clients have included: